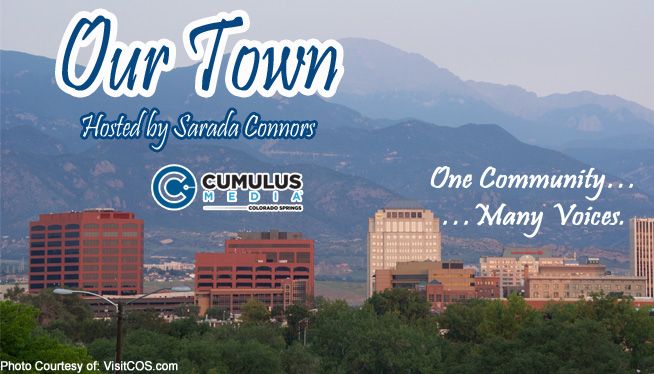 Our Town is the show that spotlights the community and makes you the star!
Broadcasting live on Southern Colorado's favorite radio stations
Saturday 5a-6a and Sunday 2p-3p on 740 KVOR
Sunday 6a-6:30a on 92.9 Peak FM, Cat Country 95-1, 98.1 KKFM, 98.9 Magic FM & XTRA Sports 1300
---
On-air host Sarada Connors connects the community with free events and local non-profits, athletes, filmmakers, authors, musicians, rising professionals plus much more.
Sarada Connors has won 4 Colorado Springs Independent awards for " Best Of Talk Radio Personality " and " Best Local Radio Show". Nominated for the Leukemia & Lymphoma Society Woman of the Year and won the LLS Community Involvement Award.
Sarada was also nominated for the SCWCC Accolades Award for the Young Professional of the Year and is a 4-time winner of for the Best of Colorado Springs Award for Media Production for Our Town.
For up to date guest and events follow on Our Town's Facebook Page and listen to past shows podcast HERE
---
Coming up this week on Our Town
Laura Parker- The Exodus Road

The Exodus Road began through the journey and work of co-founders Laura and Matt Parker. Moving to SE Asia with their family in April 2010, Matt and Laura initially directed a children's home for hill-tribe girls in rural Northern Thailand. During that time, Matt and Laura were exposed to marginalized people groups – targets for human trafficking. Eventually, Matt began networking with NGOs and local police to learn about the problem at the ground level. After a period of research, he was deputized by police and started working personally to find those trapped in slavery as an undercover investigator.

 

Diane Reitan- Silver Key

Silver Key Extension Services launched more locations! Silver Key received $101,000 from El Paso County (CDBG grant) to EXPAND AND EXTEND the current CDBG-CV Nutrition grant for home-delivered meals to better serve rural El Paso County senior residents living near the communities of Falcon, Peyton, and Calhan. In a new and unique partnership with the Pikes Peak Library District, Silver Key will be establishing two "pop up" service extension sites in both communities, starting with one day a week each, to provide a unique hybrid blend of in-person Silver Key "consultation" services PLUS a five-pack of Silver Key's senior-specific nutritious chef-created frozen meals for take-home enjoyment. Grab N' Go sites require 1 week prior reservations which can be completed below online, or by calling our Silver Line at 719-884-2300.

https://www.silverkey.org/services/calhan/

 

Ben Foley- Serve Now

 

 In December of 2012, ServeNow was launched to serve people in need by caring for orphans, widows, underprivileged children and youth as well as equipping the Church for greater fulfillment of its ministry and providing humanitarian assistance where needed.

Sarada with the " Our Town Rundown "
Throw us a "LIKE" on our facebook and also get access to more than what you will find on here!