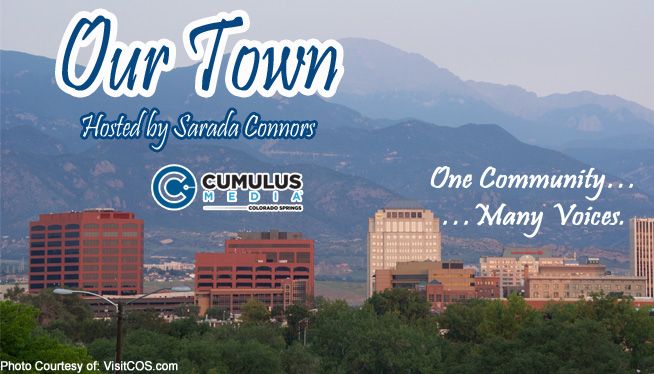 Our Town is the show that spotlights the community and makes you the star!
Broadcasting live on Southern Colorado's favorite radio stations
Saturday 6a-7a and Sunday 2p-3p on 740 KVOR
Sunday 6a-6:30a on 92.9 Peak FM, Cat Country 95-1, 98.1 KKFM, 98.9 Magic FM & XTRA Sports 1300
---
On-air host Sarada Connors connects the community with free events and local non-profits, athletes, filmmakers, authors, musicians, rising professionals plus much more.
Sarada Connors has won 4 Colorado Springs Independent awards for " Best Of Talk Radio Personality " and " Best Local Radio Show". Nominated for the Leukemia & Lymphoma Society Woman of the Year and won the LLS Community Involvement Award.
Sarada was also nominated for the SCWCC Accolades Award for the Young Professional of the Year and is a 4-time winner of for the Best of Colorado Springs Award for Media Production for Our Town.
For up to date guest and events follow on Our Town's Facebook Page and listen to past shows podcast HERE
---
Coming up this week on Our Town
Jack Briggs- Springs Rescue Mission

The Vision is to see lives transformed and filled with hope as our community works together to fight homelessness, poverty and addiction. Because of our love for and obedience to God, our mission is to mobilize the community to provide Housing, Health and Work services.

https://www.springsrescuemission.org/

Michele Williers- Peak Parent

PEAK Parent Center is a nonprofit that works every day to ensure that all people with disabilities are fully included in their neighborhood schools, communities, employment, and all walks of life.

A Parent Center founded in 1986, PEAK offers an array of free and low-cost services to families of children with disabilities and self-advocates across Colorado and beyond. Each year, PEAK directly reaches more than 26,000 families, youth with disabilities/self-advocates, and educators.

Deborah L. Hendrix- Parents Challenge

Parents Challenge is a 21-year non-profit organization that provides mentoring and financial support to low-income families around their educational choice… be it traditional public, charter public, private, or home school. Save the date, January 22nd for the National School Choice Event!

Sarada with the "Our Town Rundown "
Throw us a "LIKE" on our facebook and also get access to more than what you will find on here!