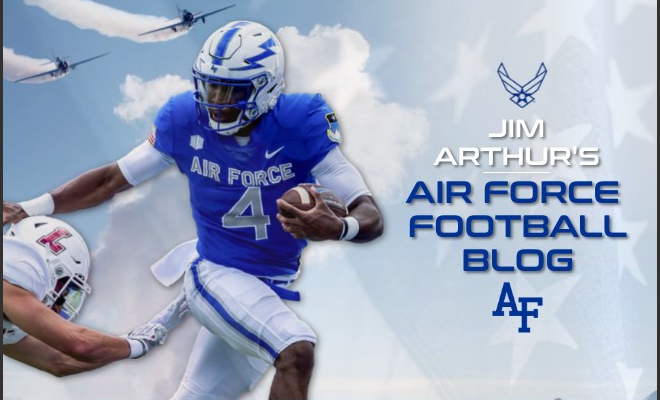 10-19-23      So Far, So Good. But……
6-0 halfway through the season for the Air Force Football team. 4-0 in the Mountain West Conference. But 6 games are left, and nothing will come easy for the Falcons. Navigating the final 6 weeks of the season will be tricky. Everyone, especially Navy (Saturday at 10am on 740 KVOR) and Army, will bring their "A" game, especially if Air Force is undefeated when they play. The Falcons last found themselves in a conference race in 2015. They won the Mountain Division but lost the title to San Diego State. While Troy Calhoun and the coaching staff will understandably downplay that opportunity to focus on the immediacy of the next game, the players know where they are and where they can be. So, how do they get there? If Zac Larrier can't go Quarterback Jensen Jones needs to step up. He has waited for this moment. He is bigger than Larrier, and sturdier for running between the tackles. However these will also be the first serious snaps he will take at QB. Jones, or Ben Britian will need to play smart, and minimize mistakes. Both are seniors, although with somewhat limited experience. FB Emmanuel Michel and TB John Lee Eldridge must continue to be who they have been. Eldridge has been dynamite on the outside, although it was perplexing why he only had 3 carries against Wyoming. Feed both of them the ball, and also get Cade Harris in the mix. He is fast and a good receiver out of the backfield. The defense has been solid, although Wyoming was able to move the ball on them in the first half. Much like the offense, your stars on defense need to continue to play like that, namely S Trey Taylor and LB Alec Mock. Both have been sensational. Jonathan Youngblood has been outstanding as well. CJ Boyd stepping in for Camby Goff at the spur, has opened a lot of eyes. Strong Safety Jayden Goodwin hits people, and hard. And the defensive line, with Peyton Zdroik and Jayden Thiergood back, can cause a lot of trouble. The Falcons had 3 second half sacks against Wyoming. Everyone one on that D-front contributed. PJ Ramsey has played at an all-conference level.  So all the ingredients are there. Credit to the coaching staff because they have always had an answer. The fake punt against Wyoming was a great call by Calhoun. The defense found ways to get pressure on Andrew Peasley at Quarterback. But that was only test #6 for the Falcons. 6 more await. And they won't be easy. Will Air Force have the answers the rest of the way?
Listen to Every Air Force Football game on 740 KVOR.